Duly Noted: A Folk Fest of Good Feelings
From the desk of George Handlery on Sat, 2009-07-25 13:10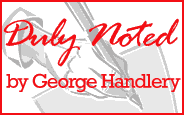 George Handlery about the week that was. No to violence but support for its ideas. The dictatorship of virtue is a perennial seller. Good coup, bad coup, whose coup is what matters? Faith, identity and tolerance. Another failing EU candidate. Is Obama Wilsonian? The Dictator's Tantrum.

1. Not only ignoring its reasons but in defiance of the causes, the Honduran coup is regretted by the moralizing media. Coups are "not good". However, in this unusual case, it prevented an abuse. The action removed a ruler who, exploiting the state power entrusted to him, mounted an incremental take over in slow motion. Comparable cases (Stauffenberg, July 20, 1944) are celebrated as heroic stands against tyranny. In reality, some regret only that the wrong side has been hit. A major paper finds that it is a positive sign that a putsch has provoked an international reaction. The question is: would the double continent's left of center governments and their global community of fans have been so consequently true to principle had the dismissed plotter been a rightist and the conspirators men of the left?

2. TV presented a documentary about a terrorist I knew casually. His story: Anarchism and the combat of capitalism and "greenism" combine to make him a bomber. Capture is followed by jail-time. Next is a breakout with a criminal band. During the escape, a person was killed. Life in the "underground" follows. Then he killed a customs agent. Thereupon he escaped across a border with the help of a minister. Abroad he is convicted for a subsequent murder and attempted murders. After serving a reduced 12-year sentence, he is sent home where a new trial awaits. He gets 17 but on appeal, it is shrunk to10. Now the man is due for early release. The program gave a prominent role to a Social Democratic parliamentarian who is – where is the surprise? – also a teacher. The lady "rejects violence". Nevertheless, she approves of ideas that lead to violence. Given the fact that Mr.X's "war" against capitalism makes this a "political" case, she finds the "harsh" sentences politically inspired and, consequently, unfair. The man acted upon his convictions which is a reason for "understanding". The real shock in the story is that the defenders of murderers are electable.

3. Spectacular acts of terrorism – Jakarta – do not necessarily prove that consequent action against terrorism has failed and that, therefore, all opposition to such violence is futile. Spectacular actions only demonstrate that a nut under the influence of indoctrinating reality-denial can become willing to commit suicide. Self- destruction can be politically channelled. Politics have often created ways to mass destruction.

4. Here follows the reconstruction of a time tested thesis of the past's and present's successful totalitarians and fanatics. "We are virtuous. Therefore, virtue, made into our political program, is our policy. This makes those that are not with us evil. Against them, no wrong can be committed". We have heard this argument repeated ever since the rise of modern dictatorship. Amazingly, the old message still finds new takers. This being so, one is reminded of those logic defying messages -a new one arrived while preparing this manuscript – that one gets from Africa or the Near East. They promise gains in exchange for "barely" extra-legal help in a doubtful deal invented by the dispatcher. Amazingly, no matter how suspiciously and how well publicized the trick, new victims are always found. Just like in politics.

5. It is argued that a discussion between "churches", religions and systems of belief must take place. Talking could prepare the ground for an understanding that might help us to live together in peace. The "together" might be that in practice we accept our share of the globe. From this it follows that we renounce the urge of increasing our dominion through violence and agitation. Mean wile we are to tolerate pockets of alien systems in our midst. A noteworthy practical problem stands in the way of implementation. In a significant number of instances, some religions or ideologies have become denominators of national identity. (Islam's sects, Christianity's mutations, "Socialism".) A version of this is when a ruling group equates ideology with its rule and with the defining trait of the community it rules. Once this happens, an honest discussion to overcome faith-related confrontations is hindered. After all, such dialogues are not only designed to overcome philosophy-related conflicts. The advocated approach reduces the significance of the official faith in the daily affairs of the community. This amounts to the surrender of tenets that used to be regarded, prior to their privatization, as defining for communities and persons.

6. While "building socialism" age 13, in the outermost circle of the Gulag, from my seniors I learned to long for a united Europe. Therefore it surprises me that the discouraging evidence derived from the noble theory's application has made me a Euro-skeptic. This does not imply a reluctance to admit that some things work in "Europe" and that key features of the idea still deserve support. However, the EU is regarded as a guarantee of democracy and so for the self-determination for communities an persons. In this case, anything that tries to alter and repress by "benign pressure" the components of the union, contradicts the founding idea. Such an attempt amounts to trying to "abolish the people", meaning the EU's nationally organized constituents. For two reasons, this inclination should not surprise us. (1) Bureaucracy spreads like oil on the surface of a puddle. The process implies that autonomous areas that operate satisfactorily, become targets for regulation. Call such invasions bureaucratic "power grab" by administrators needing something they can run. (2) The leaders of the EU, France and Germany, both share a tradition of centralization. The same pertains to their international record. Repeatedly they have tried to unify the continent by compulsion.

7. Iceland wishes to enter the EU. Her government sees no other cure for the country's financial ailments. The story makes one wonder how many collapses or feared failures are out there begging for admission. In the light of their response, one understands why well-managed countries might opt to avoid joining. Hereby North Korea and Burma are nominated for membership.

8. Given the moment's intellectual climate, it is unwise to write anything that smells like a Bush apology. Knowing this, prudence suggests caution. Still, it might not lead to public flogging to suggest that, Bush' foreign policy will one day be compared with Obama's. While hither actions of the "Man of Change" enjoy excellent PR, the substance achieved scores below its good publicity. America's critics, absorbed by watching the show, are silent. It is difficult to attack Obama personally. (Who wants to be a racist faddy-daddy?) Regarding the substantive, America's enemies, such as North Korea and Iran, persevere in their projects. Iran even got compliments meant to be "confidence causing". Shaky formal allies are, while nothing is demanded of them, participants in a folk fest of good feelings. Left alone, contributing allies, might be less enthusiastic. In the light of long-term projections all this sounds Wilsonian. However, bringing up this is unkind – for now.
Bush might have been clumsy. However, he stood up to his foe. With Obama it is the "other way around". Many think that Bush made enemies of those that one did not have to take on. The test of the thesis is whether, the balmy air blown from Washington, will make the antagonists change course.

9. The Dictator's Tantrum. Perhaps you can still recall this. About a year ago a spat developed between the Canton of Geneva (a constituent of federal Switzerland) and Gadhafy's son. The Canton's police acted on a complaint of a hotel's staff. Gadhafy Junior pummelled his servants that travelled in his entourage. The police acted, as they would have in case of any local lawbreaker. The Beloved Son was arrested, spent a night in jail before he was released on bail. Thereupon the Reigning Dad closed some Swiss businesses in Libya and took Swiss businessmen hostage. These are now not in detention but cannot leave the country. Libya wants an apology and half a million. Meanwhile, on the request of the (compensated) servants, the charges have been dropped. The newest joke is that at an international conference Gadhafi has suggested that, like 18th century Poland, Switzerland be dissolved. The insolent country should be divided between Germany, France and Italy. What follows is typical for the Western way to deal with resolute tyrannical adversaries. The country's acting protocol-President is going to meet the tent-housed potentate. He will request to get his people back. Will they also discuss the demarcation lines between the zones that the Libyan intends to assign to Switzerland's inheritors?