The Writing on the Wall
From the desk of Alexandra Colen on Fri, 2005-11-18 14:57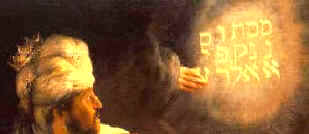 The world has had its fill of French riots, the press is looking for something new to write about, Europe wants to believe that the social realities exposed by the French riots are typically French and no concern of theirs. And France is impatient to return to business as usual and lull the French into a sense of security that can only be more fragile than it was before.
Things will never be the same, however. The fact the European Union is giving exorbitant sums of money to buy the peace of France's Muslim population betrays that they are uncomfortable about the unrest spreading to other European cities. Not only in France but all over Europe, tensions in society are rising. Though issues of unemployment and inequality in the French suburbs may have contributed to the recent explosion of arson and aggression, they are not the only cause. The riots are not just a response to social injustice. One striking aspect of the riots was the hatred reflected in the faces and demeanour of the rioters.
It is time to ask where this hatred comes from. Is this Islam waging Jihad? Is it social breakdown caused by welfare dependency? Or are the young Muslims filled with contempt for the secular Western culture of intolerance and indecency, a hedonist society that does not believe in God, that no longer procreates and merely consumes to the detriment of its own future generations – a civilization which discusses gay marriage and adoption while its girls and women dress as whores and are displayed as such on the pictures and in the songs that fill the streets and shops of European cities?
Though Islamic fundamentalism and the stifling French social welfare system are partly to blame, I suspect that many immigrants hate the West not because they see it as an enemy – that may be true of the United States – but because they despise it – especially liberal, secular Western Europe. They are filled with hatred for the arrogance of the Europeans, who regard themselves as enlightened and tolerant, but in their sense of infinite superiority fail to see that they are merely imposing their own culture upon others.
Interestingly, the latter is exactly what the liberal mainstream in Europe accused traditional Western society of doing in the 1960s. The "youths" of the 60s broke loose from the perceived imperialism and intolerance of conservative morality in a largely Christian society during a spate of unrest and protests on university campuses, culminating in the symbolic month of May 1968, when marxist students rioted and burned cars in the streets of Paris. Today, the culture of this so-called post-modern "Generation '68" is the dominant one. Through their almost totalitarian control of politics and education, the revolutionaries of '68 have reshaped European society into a secular and anti-religious one. That is the kind of society which their leaders, who dominate politics and the media today, like to describe as "enlightened" and "tolerant." But they cannot comprehend that a new generation with a different culture is doing exactly the same as they did in their youth: rebelling against the arrogance of a dominant culture in a wave of large-scale vandalism.
Those same cultural leaders, who still think of their own behaviour almost four decades ago as heroic and justified, find it hard to condemn the rioting "youths" of today. They are now condoning those who hate and despise them, because in their own secular "jihad" against the last remnants of the conservative Christian culture of Old Europe, they think that the Muslim immigrant "youths" are their allies. Hence, they fail to see their own mortal enemy. Conservative Christians and others who do not worship secular "multiculturalism" are branded as intolerant, racist xenophobes and laws are made to silence them. In doing so, however, the liberal establishment is feeding the beast that will eventually destroy it.
Perhaps the secularists think that it will be as easy for them to destroy Islam as it was to destroy Christianity. For the time being, until Islam takes over, Europe's dominant culture is that of liberal Europeans who look upon Muslim societies as medieval backwaters and assume as a matter of course that their own attitudes and lifestyles will, and should, be adopted by all other members of society. However, the events of the past three weeks have put those who regard themselves as icons of tolerance to the test and have shown that they are totally incapable of looking at the facts from another (in this case a non-white, non-liberal) perspective. Their obvious, though subconscious, chauvinism and their lofty, paternalising attitude during the three weeks of rioting served only to fuel the anger of the Muslim "youths."
This anger was directed, not against unemployment or exclusion from French society (inclusion in the latter is the last thing they want if it means being forced to adopt the decadent culture of the West) but against the very policies which provide them with equal opportunites and equal status in French society. The "youths" burned down schools and sports centres because they perceived these for what they are: attempts to lure them into the culture of Western liberal society. From this point of view all the policies promoting integration and participation, equality, education and employment, especially when they are shrouded in liberal, "tolerant" rhetoric, can only be interpreted as insults to their dignity. They are Europe's future because they are its youth, and they know it. The liberal media, by unqualifyingly describing them as "youths" confirmed this for all to see. What we witnessed in France in the first half of November 2005 was the writing on the wall: Europe's Mene Tekel Upharsin – Thou art weighed in the balances, and art found wanting.
25 And this is the writing that was inscribed: MENE, MENE, TEKEL, UPHARSIN.
26 This is the interpretation of the thing: MENE; God hath numbered thy kingdom, and brought it to an end;
27 TEKEL; thou art weighed in the balances, and art found wanting.
28 PERES; thy kingdom is divided, and given to the Medes and Persians.
(Daniel, 5, 25-28)