Organizers of Brussels Anti-Sharia Demo Appeal against Ban
From the desk of Paul Belien on Thu, 2007-08-16 20:26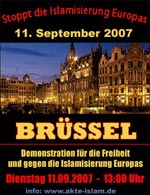 Today, Udo Ulfkotte, one of the organizers of the anti-Sharia demonstration in Brussels on 11 September, was in the Belgian and European capital to confer with lawyers about legal steps to counter last week's decision by the mayor of Brussels, Freddy Thielemans, to ban the demonstration.
Tomorrow Hugo Coveliers, a member of the Belgian Senate, will initiate an appeal procedure on Ulfkotte's behalf against the mayor's decision before the Council of State, Belgium's highest administrative court. The CoS will have to issue its verdict before 11 September. According to Senator Coveliers it is "80% certain" that the CoS will overrule the mayor's ban and allow the demonstration to go ahead.
Senator Coveliers is one of Belgium's best lawyers. He has been a member of the Belgian Parliament (first the House of Representatives, then the Senate) since 1985. He was the group leader of Prime Minister Guy Verhofstadt's governing Liberal Party in the Senate, but was ousted from his party in 2005 because he criticized its multiculturalist policies and the decision to grant voting rights to non-Belgians.
During his visit to Brussels today Udo Ulfkotte gave interviews to some of the major Belgian newspapers. He also met Filip Dewinter, Belgium's "worst Islamophobe."
Dr Ulfkotte expects that thousands of Europeans, from all of the 27 EU countries, will come to Brussels on Tuesday 11 September to support the demonstration's demand: No Sharia here. "Europeans want to keep their liberties," he told me today.
"Sharia rules are already being introduced every day. Islamic banking is now possible in every West European country. The pan-European aerospace company Airbus has established a Sharia-compliant subsidiary. A fatwa board of muftis has to approve all decisions.

The Brussels mayor bans a demonstration in which Europeans want to assert their values because he fears an outburst of violence from the Muslim minority in this city. At the same time Mr Thielemans asserts that Islam means peace. If Islam means peace, why should he fear violence? Mr Thielemans' ban proves our point: it confirms that our traditional European freedoms are being restricted in our own countries. We want this process to stop."
I asked him what the organizers would do if the Belgian authorities uphold the ban.
"In that case we still ask people to come to Brussels, where we will stage a 'birthday party' for Mr Thielemans and everyone else who happens to be born on 11 September. I have been told that there are many Belgians born on that day: Freddy Thielemans, Filip Dewinter, one of your ministers [the leftist multiculturalist Flemish minister of Culture Bert Anciaux] and even your Queen Paola.

So, whether the demonstration is allowed or not, we ask people to come to the Schuman Square (Rond-Point Schuman), in front of the Berlaymont building, the headquarters of the European Commission, at noon (12 am). What we will do anyhow, whether permitted or not, is to hold one minute of silence for the victims of 9/11/2001."


See also:
Thank You, Mr. Mayor: Champagne for Everyone, 13 August 2007
See You in Brussels, Freddy, 15 August 2007