Sarkozy's Useful Romance(s)
From the desk of Tiberge on Wed, 2007-12-26 13:16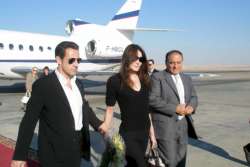 Nicolas Sarkozy, the 52-year old President of France, has a new girlfriend – Carla Bruni, a 39-year old Italian-born model turned singer. Having been linked romantically with his minister of justice Rachida Dati (through hints – it was never openly stated), with journalist Laurence Ferrari, and with a blond Bosnian bombshell named Tinka Milinovic, it looks like this is the real thing for the Prez.

Yesterday, President Sarkozy and his mistress arrived in Luxor, Egypt for a 6-day stay. This condensation is from Le Figaro:

They arrived […] on board a Falcon 900 owned by Vincent Bolloré, the businessman who had lent the president his plane and yacht for a trip to Malta, shortly after the election last May. [...] After Luxor, Nicolas Sarkozy and his friends will head for Sharm el-Sheikh, the great resort city on the banks of the Red Sea. The French Foreign Minister Bernard Kouchner, who arrived on Monday evening with his companion Christine Ockrent, will join them at a villa on the bay of Naama. The luxury villa, situated on a vast coastal strip, is the property of the sheik of Abu Dhabi.
Christine Ockrent, a well-known French anchorwoman, is variously described as the "spouse" and the "companion" of Bernard Kouchner, the French Socialist whom Nicolas Sarkozy made his Foreign Minister. I had assumed at one time that Ockrent and Kouchner were married, but it isn't clear. I've noticed that many couples who live together are considered "spouses" – the Minister of Ecology Jean-Louis Borloo and Beatrice Schönberg, another French anchorwoman, for example. Apparently very few high-profile politicians or journalists actually marry officially. Or to put it differently, marriage is considered obsolete by the ruling elite.

Carla Bruni Tedeschi, born in Turin on December 23, 1968, daughter of a rich industrialist and a pianist, has been living in France since the age of five. In 2001 she had a child, Aurélien, from her relationship with Raphaël Enthoven. She is currently featured in a sensual ad for perfume and is also known from various nude pics.

Many reports stress the openness of the Sarko-Bruni relationship. The Journal du Dimanche satirizes the whole business:

Oh People! Stop complaining about your purchasing power and gaze at your sovereign who, for Christmas, honors you with his latest conquest. Careful now, it's not just anybody, it's not low-class merchandise! Traitor Cecilia can go put her clothes back on! Nico is going after a top-model (...) It's true that the hunting record of the young lady, at least the visible part, is already full, from Louis Bertignac to Laurent Fabius (former prime minister), not to mention Arno Klarsfeld and the Enthovens – father and son. (...)
We learn from Le Salon Beige that Carla Bruni campaigned for Ségolène Royal (Sarkozy's Socialist adversary in the French presidential elections earlier this year), opposes DNA testing and has signed petitions for SOS Racism, an anti-racism organization. Sarko sure does love those socialists.

Bernard Antony analyses the president's relationships. Sarkophages ("Sarko-eaters": devourers of Sarkozy) is the term Antony uses to denote both Carla Bruni and Cecilia Ciganer-Albéniz, Sarkozy's second wife, whom he divorced two months ago.
Psycho-morphologically, Carla is very close to Cecilia. I think I understand why, with their lustful and yet mysterious side, they exert a fascination on Nicolas Sarkozy who likes risks, challenges and instability. Both women are perfect Sarkophages. By that I mean that there is in their relations with Nicolas a sort of very understandable reciprocal swallowing up, passionate, but with a big element of Freudian psychological disturbances.

But this type of incandescent love cannot last without a true intellectual and moral connection and I doubt this is the case. When Carla and Nicolas break up, they will certainly have the savvy to use their highly publicized separation to make people forget some unfortunate riot or some unpleasant visitor. Having said that, as long as the French people are told all about the life of the beautiful, rich, and therefore very left-wing Carla Bruni, they will allow Sarkozy to betray them on Turkey.
Bernard Antony is referring to the latest rumors and comments that Sarkozy is going to help to bring Turkey into the EU.