Industrialized Health: Follow-Up
From the desk of George Adair on Thu, 2005-10-13 07:04
Due to several comments received after this post showing the U$D amounts spent by various governments on healthcare per capita for their citizenry, a follow-up. Below are selected health indicators found on the World Health Organization's website. These indicators are topline figures for general comparisons between countries. As a tribute to Raymond van het Groenewoud, Belgium has been added to the mix of data: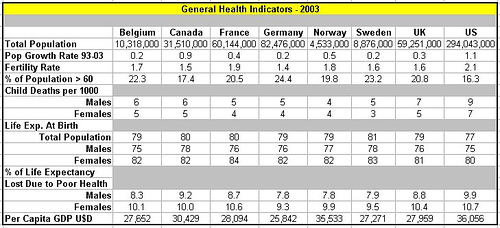 Source, WHO
Please spot the huge differences.
Child mortality rates? Compare each country in conjunction with the fertility rate figure, more/less children being born may play a role. If you feel that is a wrong analysis, please explain why countries with lower fertility rates have an equal or higher number of deaths as do countries with higher fertility rates, as well as vice versa.
Life expectancy? Again where is the huge difference? 2 to 4 years, wow. Given media accounts of the number of Americans "uninsured" and how terrible life is in the US one would expect life expectancy to be in the 60's. There are many trade-offs in life. I for one would happily trade-off 2 years at the end of my life for the ability to provide for my family, upward economic mobility, or even the hopes of these things versus spending large stretches of my life (10+ years) dealing with economic stagnation/decline and the strain of double-digit unemployment, year after year after year after year... (you know who you are)
The above are general stats. No rational person can point to the "horrid" nature of American medical care when looking at these health indicators.
What about specific country information. The WHO also has a Mortality Database. Not the most pleasant of topics, but most reading this blog are indeed adults. Per 100,000 people of a particular country, what is the rate of death for:


Source, WHO (latest reporting year)
America's market-based healthcare system leaves citizens dead and dying from all causes. Perfect government-run healthcare systems seem to leave citizens dead and dying too, only at a higher rate from all causes.
Problems with cost in America's health insurance system, absolutely. Problems with care in America's healthcare system, think again.
Perhaps Raymond should donate the royalties from his anti-American screed to organizations improving the quality of life in Belgium. When it comes to life-ending diseases the "general decay" seems to be a little more closer to home for our Belgian troubadour of hate.