From Meccania to Atlantis - Part 2: From the Clenched Fist to the Raised Middle Finger
From the desk of Takuan Seiyo on Sat, 2008-11-01 09:13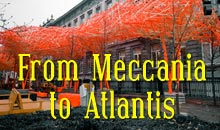 The sentry's challenge
Qui vive is the French sentry's challenge, the equivalent of "Who goes there?" Except, the literal meaning of qui vive conveys the timeless common sense of the French peasant who puts his trust only in blood ties, deeds to land, and in gold coins in a jar under the plum tree. For qui vive means "Who moves there?" but also "Who lives?"
He lives who is on the alert. But we have been dedicated somnambulists for 40 years now.
The American comedienne and blogger, Julia Gorin, described two years ago how bus riders in Richmond, Virginia started calling the local Transit Authority to find out why signs in Arabic had started turning up on buses. The signs were in fact innocuous phrases such as "Paper or plastic?", and they were the work of the [Christian] Virginia Interfaith Center, which had placed them as part of an effort to disassociate Arabic script from hostile connotations.
Predictably, Associated Press and other MSM scoffed at these citizens' concerns. The white, Christian sponsors of the pro-Muslim campaign stated that "Americans can learn to let go of irrational fears toward other cultures." But Gorin wrote, "Islam and our media want us to hit the snooze button again."
Gorin likened this to a Twilight Zone episode called To Serve Man, in which space aliens have landed on earth. The head alien assures the panicked populace that the visitors have come in peace, and their purpose is to serve man. He carries around with him a book of the same title, To Serve Man. To Serve Man is a cookbook. The aliens' true purpose it to eat us.
The West's ruling elites have brought us tens of millions of Third World aliens to serve man. And, to serve man and the elite's own vanity and material ambitions, they have put many of the aliens' alienated children, and indigenous alienated racial minorities, in positions of power and responsibility for which they are unqualified. They are qualified, however, to use those positions to greatly enhance their own tribal interests and thereby soothe the inflamed conscience of the white Pods.
I ended Part 1 with the notion that we need a political organization of global presence and local manifestation. I called it provisionally the Nonpod Party. The name Antipod Party is perhaps more on target, with its additional connotations of geographic symmetry and antonymy to Antifa. I'll use Antipod as a handle of convenience henceforward. Still, "party" does not begin to convey what we need and what we are up against.
What we need is to reconstitute as a tribe, with its own culture, totems and taboos (which will be explored in subsequent installments). We need to realize that the overwhelming majority of the nonwhite minorities in our countries act as tribes, and our white Pod elites act as pathfinders and enforcers for these tribes, against us.
To expand a Middle Eastern precept, this is the essence of Third World tribalism:
Me against my brother; me and my brother against our cousin; me, my brother and our cousin against the neighbors; our neighborhood against the city; our city against the country.
There is no need to denigrate tens of millions of people by misinterpreting the preceding paragraph. Most of the 30 million Muslims in Western Europe, or 40 million blacks in the United States do not have predatory designs versus the white-majority nations that harbor them. But they do have among them large numbers of individuals who either are criminals or espouse criminal and genocidal views. And most of their co-ethnics, who may not support such activities and views directly, seem to condone them out of fear or feelings of tribal solidarity.
Even on a milder level, with America's 45 million Hispanics for instance, in-group membership trumps civic membership. It's a tribal phalanx competing for money, jobs, political and cultural influence against a much larger but thinly spread ragtag crew of whites devoid of common purpose or identity.
70% of Hispanics support Obama; 21% support McCain. The votes go to where the Hispanic gravy train is longer, and the border open wider. In a country where presidential elections can be decided by a margin of 0.5 % of the votes, the fatal dullness of three generations of Americans has transferred control over their nation largely to the citizens of Mexico.
Western countries are ruled by a cabal of true believer Pods and cynical opportunists. The former are innocent of the notion of tribalism, refuse to perceive it in others, deny that it exists, and do everything in their considerable power to implement a multicultural reality under which minority tribes displace and dispossess the non-tribal majority whose allegiance is civic rather than tribal. The cynics exploit the resulting turmoil for their own gain.
Of the two, the idealistic Pods are probably the more dangerous. Their utopian hallucinations fire up the imagination of the idealistic and naïve young, growing more Pods and more votes for those who suffocate us. But the cynics, such as Belgian socialist politicians who grow Muslim power for their own gain, or American Congressmen who campaign in Spanish and enable Mexicans to vote in American elections, are not a pretty picture either.
The persecution and disfranchisement of those who object to the New World Order has now reached totalitarian state proportions, and the hundreds of millions of people who are on the menu, about to be served as the entree, remain unaware and unsupportive of the few, brave objectors of conscience who are now being consumed as hors d'oeuvres.
The disgrace of persecuting, ruining and jailing good men for the crime of "racism" seems to be a Belgian specialty that few outsiders know except who read this Webzine and a few blogs of limited reach. Recently, Bart Debie was punished for "racism" with a one year prison sentence, a fine of 30,000 euros, loss of his political and civil rights, loss of his police career and loss of his elected position on the Antwerp city council – all because some policemen in his unit, without his knowledge, roughed up Belgian Turks who had attacked them with baseball bats and knives.
Now, the European Parliament will likely lift the parliamentary immunity of Frank Vanhecke, a popular leader of the Vlaams Belang party. The follow up will be the Belgian authorities' likely prosecution of Mr. Vanhecke for "racism", resulting in a sentence similar to that of Bart Darbie's. This because a provincial newspaper of Vanhecke's party wrote, without his knowledge and not contrary to facts, that immigrant youths had vandalized a Christian cemetery.
This persecution, I believe, has a dual motif. It's an action of Pods who loathe opponents of the Islamization and "diversification" of Belgium. But it's also an aktion of a type that served Hitler to consolidate political power in the Third Reich, and that had devoted practitioners also in Stalin and Mao. These Flemings are being prosecuted because they belong to a conservative party that wishes to end the oppression of Flanders by socialist Brussels bureaucrats of a different ethnicity.
It's hard to believe that in America, a majority-white country, where a crowd of 10,000 can mobilize to cheer a Mayan activist or to protest before an Israeli consulate in favor of Palestinian murderers of children, there aren't 100,000 people demonstrating in front of the Belgian Embassy against that country's shameful persecution of its non-multiculti, non-socialist Flemish citizens. More so because, as Belgium is the canary-in-the-coalmine for Europe, Europe is for the United States.
"The European Union," writes Fjordman, "is a naked power grab by the elites in order to dismantle the nations there are supposed to serve." The Twilight Zone scenario of To Serve Man conveys this idea vividly, but the mechanism Fjordman highlights is of concern to every white person in the world whose soul and brain are still with him.
As relayed by Fjordman, the proposed European Arrest Warrant lists among its actionable crimes racism and xenophobia, including "Islamophobia.". This means that "Islamophobia" could soon be treated as "a crime as serious as rape and armed robbery across the European continent."
Simultaneously, the final design of Eurabia is being implemented that includes North Africa and the Middle East in the European Union. This will flood Europe with tens of millions of additional Muslims, resulting, inter alia, with increased incidents of "Islamophobia." The crowning glory of this two-step is that a descendant of Charlemagne could be arrested in Aachen for an offense to Islam. He could then be renditioned to Algeria or Egypt, to face the charge of blasphemy under sharia law. It's not necessary to belabor the outcome.
How many white Americans, Canadians, Australians know that? A blueprint for Meccania is being constructed daily, and it will be applied in one form or another in their own countries, when they will be watching the MTV Video Music Awards on their digital flat panels.
Americans have, so far, preserved more freedoms than Europeans have, but the Obama juggernaut has revealed that roughly 50% of the country, comprising the Pods and the progressives, the socialists and the Marxists, the tribals and the voting illegals, the young, the single females and the sexual deviates (1) want to live in totalitarian Meccania, led by a far-left community organizer drunk on black race-identity.
Already, one can read American headlines like "As Obama era looms, Gates drops 'Islamist' from characterization of terrorism". Like other tyrannies in history, the Obama regime's priority will be to disarm their citizen-subjects, even though it violates the American Constitution. The next step will be to muzzle political opponents by enacting the "Fairness Doctrine" – a top priority of the Democratic Party. Conservatives' access to the only mass medium open to them, radio, will be made financially impossible.
The next steps will then be easier: redistribution of income, redistribution of political power to "minorities" unwilling to wield it according to our proper traditions, and further restriction of any possibilities of effective opposition.
America already has "hate laws" on its books that impose special penalties on crime by reason of race, religion or national origin of the victim, thereby creating a preferred class of citizens. In practice, white-on-black crimes are prosecuted as "hate crimes," but black-on-white crimes are not. Likewise, even overt terrorist attacks by fanatical Muslims are not prosecuted as hate crimes but only as regular crimes.
Constant badgering of whites about their "racism" is part of America's everyday landscape, starting in elementary school (2). The die for turning the United States into a penal colony for its whites has been cast. All that's required for its accelerated implementation is for the Messiah to become president.
He lives who is on the alert. A Japanese samurai worth his stipend used to go to the outhouse in a special way, with one leg folded under, so that he could spring and unsheathe his inseparable sword in case an attack came while he was emptying his bowels. And that was in times of peace. It's this kind of alertness we need to develop – mentally only, one hopes – if we don't want to be "served."
Up from Conservatism
Listing in Part 1 common denominators of what I now call Antipods, I omitted the most obvious one, conservatism, for a reason.
We are of a conservative, Burkean disposition. By principle, we detest high taxes and wealth-transfer programs. We cannot accept that our piggybanks built over generations of sacrifice and hard work are being raided to transfer their contents to low-skill, low-motivation immigrants and indigenous minorities who are unable and unwilling to build their own wealth though their own sacrifice and hard work. Not to speak of the banishment of piggy banks, per se, as relics of the pre-dhimmi past.
We consider phrases like"political and economic justice"— a favorite of Mr. Obama -- an outrage against actual justice. We recoil at the Podian idea of justice as empathy dispensed by semi-sovereign judges to their favored victim classes.
We are against out-of-control public spending, excessive regulations, legal system abuse, and suppression of free speech. We hate the state's tyrannical invasion of our privacy and personal freedom to prevent or control social dysfunctions that the state itself has caused through its reality-averse policies.
Moreover, such dysfunctions are narrow, e.g. terrorism by Asian Muslims or out of control crime by young, colored males . But the state's measures apply to all, e.g. in airport security checks or firearms prohibition, in effect punishing the broad mass of citizens for the state's own mismanagement of immigration and law enforcement.
But perhaps an Antipod can no longer call himself Conservative. Conservatism is now a regressive movement as incapable of grasping modern asymmetric warfare as the planners of Mr. Bush's invasion of Iraq were. Starting with the notion that for the left politics is warfare, and for conservatives it's a civil contest. It's a head-butt in a dark alley versus a polite bow and 16 oz boxing gloves in the sunlight. The Barack Obama versus John McCain presidential contest is the apotheosis of this metaphor.
You cannot, through moral rhetoric, convince people who etch KKK on your car because it sports a McCain/Palin sticker. You cannot, with rational argument, win the tolerance of young Antifas who attack you violently because you object to the building of a giant mosque in one of the four holy cities of Christianity since the 2nd century.
My old drinking pal, Iosif Vissarionovich, had a gift of Irish-like blarney that flowered when sprinkled with select Georgian reds. He said, on one occasion, "Those who cast the votes decide nothing. Those who count the votes decide everything."
Somehow, American conservatives haven't heard that one. Material abundance seems to dull one's senses. But when conservatives were out in Bible study, in campaigns to save the world for democracy, or on the golf course, a coalition of "minority" underachievers (e.g. ACORN), white "progressives" and a few mastermind overlords like George Soros and Maurice Strong engineered a coup d'état (3).
Democracy is a white people's invention, and it works only in a society grounded in classical European ideas, with elaboration by late 18th century Euro-Americans. But American conservatives, equally with Euroleftists, propped the doors open for the whole world, and forgot that the world, whites excepted, is tribal. And when you let the tribes of the world into your country, in time your electoral process will be identical to that of Mexico or Somalia.
The Man of Steel, or stalin in Russian, had a variety of other clever insights. He said, among others, "Education is a weapon whose effects depend on who holds it in his hands and at whom it is aimed." And what did the conservatives do?
They left American education – for 40 years!-- to the Gramscian Long March of non-orgasmic females with hairy legs, Mexican reconquistadores, blacks obsessed with their blackness, and white Marxists or masochist dhimmis. As a result, America's schools have been turning out generation after generation of young green foaming pods who have gone on to jobs, political careers, media-positions through which they turned the whole country around toward a future America will share with Bolivia.
The official Conservatives have also left American culture – which is to say the popular culture of the West -- to be sold off to the lowest common denominator bidders and peddlers of juvenile junk, much of it toxic. As a result, every year America's culture and its Western footprint have been producing tens of millions of young, decadent, undisciplined malcontents, pathologically averse to most anything wise and good.
One day, sipping Khvanchkara red and waiting for the toxicology lab report on the fresh-kill mutton before it could be made into shashlik, Soso even confided that history had robbed him and assigned the credit to Lenin for "When we hang the capitalists they will sell us the rope we hang them with."
And what have the soi-disant conservative keepers of capitalism done? With the Bolsheviks gone, they allowed the capitalists to sell all the rope to China, and then to use the proceeds to construct a financial guillotine for capitalism, to ruin the future of their co-citizens, and finally to retire in $15 million co-ops on Park Avenue with matching 15–bedroom villas in Aruba. It's no wonder that sales of Das Kapital are skyrocketing
Unlike Europe, where all of the destruction for 50 years has been wrought by the left, since 1989 the American political right has been co-responsible for it. This conservatism has pandered to country bumpkins and religious fundamentalists with such treacly notions as "Family Values" and "Faith-Based Initiatives". Its road is a string of constant capitulation to liberals, plastered over with Orwellian labels like "Strength in Diversity" and "No Child Left Behind".
The Republican Party, home of America's conservatives, has been infected by the same virus that animates the entire Western left: big government, infringement of natural rights, multiculturalism, denial of racial and gender differences, denial of the destructiveness of runaway immigration and "diversity," anti-white discrimination, and refusal to recognize Islam as a religious and social system fundamentally incompatible with Western values.
Emphasis on American conservatism in the Western context discussed here is necessary because that's where the world center of gravity of conservatism has been since Hitler's madness sent to the New World such Old Worldists as Ludwig von Mises, Friedrich von Hayek, Erik von Kuehnelt-Leddihn and Eric Voegelin. Then, in 1955, William F. Buckley stood athwart history, yelling Stop. The rest is history.
But then things went awry. Mutant barnacles such as neoconservatism, doctrinaire libertarianism and compassionate conservatism weighed down the old ship until it finally crashed on the rocks of the Iraq War and the meltdown of the American economy.
Conservatism is now a spoiled brand. It needs to be rethought and rebranded. I don't know what it should be called, maybe Originalism or Antipodism, but it must get away from its Texas hold'em or New York mutations and return to its European roots: Austrian economics, Germanic Protestant work ethic, Roman-Catholic cultural genius, Anglo-Saxon and Celtic concepts of liberty. This might include as common patrimony more particular elements of the white peoples' greatness, from Flemish painting to German music to Italian gastronomy, to American dynamism and self-reliance. More on this later.
For all the heavy dose of Eurocentricity advocated here, it's the American thinker and tragic outcast, Samuel Francis, whose definition of true conservatism could perhaps best serve as a basis for Antipodism: "The survival and enhancement of particular peoples and their institutionalized cultural expressions."
One Emblem
The political party that's planting Muslims in many positions of power in the Netherlands – of late, as Mayor of Rotterdam – is the Dutch Labour Party [Partij van de Arbeid (PvdA)]. It's the second largest political party in the Netherlands, and its emblem is a clenched fist inside a stylized rose.
The rose has an iconic significance going back to Roman times, representing secrecy and preserved in the expression sub rosa. The connotation is not necessarily negative. One of Holland's greatest adopted sons, Benedict Spinoza, wore a rose signet to remind himself that he ought to keep grinding lenses and refrain from publishing, except sub rosa or posthumously, to protect himself from enraged Christian and Jewish men of small mind.
But look at what's inside the PvdA rose: a clenched fist. That's the symbol of the mass murderers of the left, from Lenin to Che Guevara and from Black Panthers to White Upper-Middle Class bombers. They always say, though, that it stands for "social justice."
So the logo, rose-and-fist together, symbolizes that pvdA has a sub rosa agenda to dismantle the Netherlands, just as Mr. Obama's agenda, right below the surface of his statements, is to dismantle the United States, starting with its Constitution.
Perhaps the digitus impudicus could serve as a symbol of the antidote. An ancient gesture of resistance and derision, it spans Western Civilization back to its first recorded use in Aristophanes' play, The Clouds.
The blog of the movie/TV industry's Bible, The Hollywood Reporter, carried a story recently about the discrimination, ostracism and bullying of Republicans in Hollywood. The oppressive intolerance in show business is such that secret organizations with names like "SpeakEasy" and "The Sunday Night Club" have been formed, not for conservatives—that would be expecting too much – but just to discuss politics without being stigmatized for voicing non-progressive opinions.
Conservatives in Hollywood – I know it first hand – recognize each other by furtive clues reminiscent of Christians in Nero's Rome. For 1st century Christians, it might have been a fish shape quickly drawn in the sand. For us, dispersed among crowds of Pods, maybe a lapel pin with a stylized raised middle finger could identify Antipods to each other.
And also to the rest of the world. For we must push back. We have to make the case that our numbers are great, we will not be intimidated, and we shall prevail.
---------------------------------------------------------------------------
(1) Part of our task is to reclaim our languages. "Deviate" is a non-PC word, but it does not stand for moral condemnation. It simply denotes the subject's position on a Gaussian distribution curve that deviates substantially from the mean.
(2) The person who conceived this insanity is the (black female PhD) Director of Equity & Race Relations for the Seattle Public Schools. She posted it on the official website, but following a public outcry, the webpage was removed and replaced with this.
(3) Supporting the term coup d'état, I have five single-spaced pages of links to reports about the Obama camp's vote rigging, illegal contributions, voter intimidation, violence and blackmail applied against prospective voters for the McCain/ Palin ticket.
See also: From Meccania to Atlantis - Part 1: The March of the Body Snatchers, 28 October 2008 From Meccania to Atlantis - Part 3: From Encirclement to Breakout, 27 November 2008
From Meccania to Atlantis - Part 4: Tribe, 12 December 2008