Gudrid Thorbjorn's Daughter: A Conservative Instance
From the desk of Thomas F. Bertonneau on Sat, 2009-02-21 14:52
If conservatism (a word that discomfits me somewhat) were an attitude to existence based on a yearning for truth and if, as Plato and his twentieth century exegete Eric Voegelin argued, truth were not a doctrine, but rather a loving quest for harmonious relations among mortals and the divine, then neither would conservatism qualify for a doctrine, any more than truth. I take these propositions not merely as hypothetical, but rather, as commonsense-wise, "just so." Conservatives should in that case heave a sigh of relief because in being other than a doctrine, conservatism, supposing that one kept the word in usage, must likewise be other than an ideology. Ideologues of every stripe not only can explain – they in fact eagerly leap from the start to explain – who they take themselves to be and in what, passionately, they believe. The passion counts more for them than the specific content of any belief, but the themes, such as equality and tolerance, are consistent. Liberal loquacity, once let out the gate, has a nightmarish way of never shutting itself up.
The reticence inherent to the conservative demeanor puts a rein on agitation and volubility, as on excessive self-definition. In this way, in contemporary debate, conservatives probably always find themselves at a disadvantage in comparison with liberals, who seem never at loss for words to fill in the rhetorical space. This is not to say, however, that liberals are the only ideologues, only today's resurgent ones.
But if conservatism were indeed other than a doctrine, hence while not quite indefinable yet difficult to define, how might one accurately convey its character?
I suggest that conservatism concerns exemplars and instances as opposed to invariable formulas from the rigidity of which one may never relax, except on pain of clerical sanction, in one's dogmatic posture. I should like to hazard therefore what I take to be a richly compact conservative instance, illustrative of an essentially conservative disposition to life, tradition, and the dignity both of God and other persons. To do so I will draw on the Western literary archive, literacy being itself a conservative institution, and on a moment indeed when a shift had begun – in far-flung Iceland where the object of my interest had her birth and where she died naturally in old age – from immemorial oral and tribal habits and related modes of thinking to new literate life patterns catalyzed by the advent in the Far North of the Gospels, as brought forth in the cold lands by their monkish and priestly advocates.
At this time also, the late tenth and early eleventh centuries, the old Viking habits of feud and raid had collided with a new mercantile order that put a premium ethically on enterprise and productivity rather than on prowess at the slaying of men so as to take what one would never bother to cultivate for himself.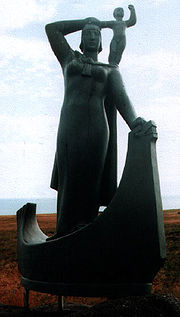 Gudrid Thorbjorn's Daughter
figures centrally in two of the most accessible of the Icelandic sagas,
The Greenlanders' Saga
and
Eric the Red's Saga.
These two short sagas record Eric's discovery and settlement of Greenland and the subsequent discovery and attempted settlement of Vinland, now known to be Labrador, by Eric's son Leif and by Thorfinn Karlsefni. Gudrid, who accompanied Thorfinn to Vinland as his wife, owns the distinction of having given birth to the first European born in the New World – her son Snorri. Thorfinn was the hardy lady's second husband, her first having been Thorgeirr the Norwegian. Thorfinn died in Vinland. When Gudrid returned at last to Greenland and then to Iceland she disdained further marriage, made a pilgrimage to Rome, on return from which, with her considerable wealth, she founded a church and cloister at Glaumby, a farmstead in Iceland's north.
Unlike other Christian characters in the two sagas, who convert to Christianity after living to middle age as heathens, Gudrid grew up in the new faith although her mother, Hallveig, seems to have been a late-in-life baptism. Gudrid figures so centrally in both narratives that they can seem a bit misnamed. Gudrid stands in great contrast to Freydis, Eric the Red's homicidal daughter, who persuades Finnbogi and Helgi to accompany her for a season to Vinland, nags them into heroic productivity, then kills both of them and their entire ship's crew so that she and her piratical henchmen can cash in the proceeds by themselves.
I noted earlier that in Gudrid's day the Icelanders were entertaining the epochal choice between their ancestral dispensation and the new Christian one, and that the limitations of warrior excellence as a way of life were becoming apparent. In this light it is worth mentioning that The Greenlanders' Saga and Erik's Saga both seem favorably disposed to the new mercantile ethos of labor and trade. They advocate it rather than reporting it neutrally. The saga-writers see in Erik the Red many admirable qualities, but they also judge that he belongs to the old generation, whose day has passed. Indeed, the sagas report of him that his life consisted in constant relocation because his habits of taking offense and fomenting conflict with his neighbors continually got him outlawed by the local assembly.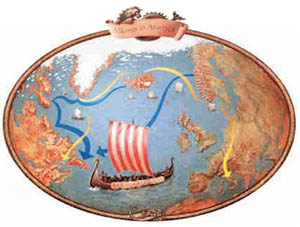 Erik himself at one point tells his son Leif that it is not fated for him, but only for his sons, to seek out the lands that errant voyagers had sighted to the west of Greenland. Erik's children, with the exception of Freydis, take heartily to exploration and trade.
The Greenlanders' Saga
describes how, in Vinland, Thorfinn Karlsefni "ordered timber to be felled and cut into lengths for a cargo for the ship" and how the entrepreneurs "made use of all the natural resources of the country that were available." The language of the sagas being spare, the images must have struck the saga-writer as significant and beautiful.
As for Gudrid, when a young woman, she lived as foster-daughter in the household of Orm of Arnastapi, at first in Iceland and later in Greenland. At first, in Greenland, Orm's kin dwelt in a house, with others who had also emigrated, at the farmstead of Thorkel of Herjolfsness. During a winter of famine in Greenland, many visitors sought aid from Thorkel, who owned considerable stored-up goods; among these came visiting an itinerant "prophetess" named Thorbjorg, whom people called "the little Sybil." She told fortunes in exchange for meals, gifts, and one or two nights lodging. With many guests in attendance, eager to know their futures, Thorbjorg proposed to sit in state and read the signs for her petitioners, but she needed an assistant to sing the appropriate "Warlock Songs."
As it happened, only Gudrid knew these songs – knew them well because she had learned them from her foster-mother Halldis, a minor seeress in her own right, now dead. Yet when Thorbjorg put her request, Gudrid at first refused, saying it stood at odds with her Christian faith. One can understand Gudrid's initial balking. As Christianity was still new in Iceland, the adherents of the faith would likely have felt somewhat keenly its tentativeness in the community. They would have sought to protect it from compromise, perhaps too zealously. Thorbjorg then said to Gudrid, "It may well be that you could be help to others over this." Thorkel pleaded with Gudrid, who honored him by relenting. Erik's Saga says that she "sang the songs so well and beautifully that those present were sure they had never heard lovelier singing," and the Sybil "thanked her for the song."
On consideration, as readers of the saga may legitimately infer, Gudrid must have judged at last that no severe conflict prevented her, a Christian, from singing the heathen runes. No harm would come from it but, on the contrary, some good might. Her refusal to lend her excellence in service would constitute, by contrast, a needless offense against Thorkel's hospitality and it would lead to disappointment on the part of hopeful guests who were looking for bright news in bad times. Moreover, given the description of Gudrid's performance in the saga, it seems that Gudrid appreciated this lore and had invested some considerable energy in learning it and practicing it.
Furthermore, the performance of the prophetic rites has the nature of a transaction. It belongs therefore to the new dispensation of commerce. The prophetess loots nothing, but offers a service whose psychological benefit in harsh days is obvious and whose purchase by the buyers is justified on those grounds. Gudrid's compromise entails no stain on her Christian conscience, after all, and accords to the songs their object merit as instances of artistic beauty.
This custodial attitude towards the heathen traditions typifies the coming of Christianity in the North. A few generations after Gudrid, when Iceland was thoroughly Christianized, an attitude similar to hers would characterize the efflorescence of West-Norse literacy, of antiquarianism and scholarship, that had its unlikely loci in various farmsteads and churches all across the island and that produced the body of saga-literature. The literacy of the thirteenth-century Icelanders is an amazing phenomenon. It produced a body of narrative and commentary equal to anything produced in the same period of time in continental Europe.
Take the case of Snorri Sturluson. Snorri was a Catholic priest who dwelt at Oddi, another northern farmstead. While overseeing a community of religious, Snorri collected the old stories of the gods and put them in scholarly and literary form in his Edda. Snorri clearly loves the old tales and finds a way to link them to the Gospel. The Aesir (Odin, Thor, Frey, and the others) were sub-gods, perhaps princes fleeing from Troy, who, at their most noble, felt the tug of the "All Father," who is the same as the Father of the Gospels.
But the real exemplar is Gudrid. Truth is for Gudrid not a doctrine, at least not a rigid doctrine from the stiff posture of which one may never relent. I believe that Thorbjorg is an exemplar, too, for she says to Gudrid that she will not press her, but will leave matters to Thorkel. The intention not to provoke a confrontation is moving. Erik's Saga records a brief but telling rencontre of two chivalrous women.