Pro-Hezbollah Group Will Demonstrate in Brussels on 9/11
From the desk of Paul Belien on Thu, 2007-08-23 10:38
The Arab-European League (AEL), a pro-Hezbollah organization of Arab immigrants in Belgium and the Netherlands, is rallying its members to march in Brussels on 11 September "against Islamophobia and racism in Europe." The AEL demonstration is a response to the request by the Danish-British-German organization Stop the Islamisation of Europe (SIOE) for permission to demonstrate on 9/11 in front of the European Union's buildings in Brussels against the introduction of Sharia laws in Europe.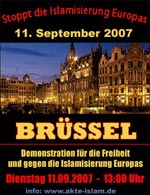 Two weeks ago the SIOE demonstration was banned by Freddy Thielemans, the mayor of Brussels. According to Mr Thielemans the SIOE demonstration is a criminal offence because it "incite[s] to discrimination and hatred, which we usually call racism and xenophobia. [This] is forbidden by a considerable number of international treaties and is punished by our penal laws and by the European legislation."
SIOE has initiated an appeal against the mayor's ban before the Belgian Council of State. The CoS is expected to issue its verdict next week. Last week Mayor Thielemans gave permission for a demonstration in Brussels on 9 September by United for Truth (UfT), a group which claims that the terror attacks of 9/11/2001 on the WTC towers in NY and on the Pentagon were organized by the American government.
On its website UfT writes that the Brussels authorities, before giving permission for the UfT demonstration, checked that the demonstration would not address religious topics. "The biggest issue was if there was any possible conflict [of our demonstration] with religion. As we just base ourselves on facts and political issues, we have no intention to discriminate or promote any religion."
Yesterday the Arab-European League issued a press release emphasizing that its own demonstration on 11 September, which so far has not received the mayor's permission (Thielemans is waiting for the advice of the police), will not criticize any religion. "The AEL respects everyone's religious convictions, culture and language […]. The demand for respect for every religious conviction is the central theme [of the demonstration]." The AEL says that freedom of expression is an absolute right, stressing that the organization did not ask for the SIOE demo to be forbidden. "However, the right to have one's religious convictions, culture and language respected is an equally absolute right."
The AEL was founded in Belgium in 2000. Its founder, Lebanese-born Hezbollah-member Dyab Abu Jahjah, has called the 9/11/2001 attacks "sweet revenge." Following the Danish cartoon affair the AEL, advocating unrestricted freedom of speech, published anti-Semitic cartoons which deny the Holocaust. Though such denial is illegal in Belgium, the Belgian authorities failed to take any action. The AEL also demands that Arabic be recognized as an official language in Belgium.
The organization says it stands for three basic demands. "Bilingual education for Arab-speaking kids, hiring quotas that protect Muslims, and the right to keep our cultural customs." According to Jahjah "Assimilation is cultural rape. It means renouncing your identity, becoming like the others." In 2002 an AEL demonstration in Antwerp led to street riots and anti-Semitic violence. The AEL wants "the Jewish community in Antwerp to cease its support of, and distance itself from, the state of Israel. If not, attacks in Antwerp are almost unpreventable."

More on this topic:
Brussels Mayor Warns: 9/11 Demonstrators Are Criminals, 20 August 2007
This Demo Is NOT Being Banned, 17 August 2007
Organizers of Brussels Anti-Sharia Demo Appeal against Ban, 16 August 2007
See You in Brussels, Freddy, 15 August 2007
Thank You, Mr. Mayor: Champagne for Everyone, 13 August 2007