From Meccania to Atlantis - Part 4½: Darkness in the Cranium
From the desk of Takuan Seiyo on Sun, 2008-12-14 08:54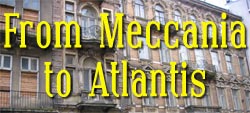 This is a brief post scriptum to Part 4, warranted by a series of most interesting comments thereto by a Mr. W. Lindsay Wheeler, and counter arguments by other readers, for whose positive comments I am thankful.

It is strange indeed that the Roman Catholic faith still harbors such a high percentage of Antisemites, particularly on the periphery of Europe bracketed by Ireland on one side and Poland on the other. Part of it has to do with the limited teaching of the Bible in Catholic education – at least the kind I know from Europe. Many traditional Catholics have little idea of how very much their image of Christ is derived from a book composed in part and later redacted by the Jews' traditional enemies, the Middle Eastern Greeks who had already invented Antisemitism in BCE Alexandria. It is also deeply ignorant about the actual man Christians would call by the Greek word, Christ, though his own disciples had called him "Rabbi."

Lack of true knowledge of Old Testament and its inseparable connection to Jesus and to his teachings leads not only to spiritual poverty, but to an intellectual one as well. The Bible is, after all, the greatest work of literature ever written, whatever else it may be. It is too, a foundation of European civilization without which one like Mr. Wheeler is streaking naked in his bared-fang frothing through the corridors of civilized men.

Mr. Wheeler's specific comments do not merit a reply, but the comments of his interlocutors do. For one, what ought to be important to us – as opposed to the Body Snatchers – is not whether one says something negative against Jews, blacks etc., but whether it's true. Probably one of the most controversial things I am going to write in this series is that Antipod schools ought to restore the study of history to great prominence in the curriculum – and it ought to be true history.

True history calls for teaching about the past and present barbarity of Africa, but also about the evil of slavery, whatever pique it may cause south of the Mason-Dixon line. True history must teach about the massive Jewish complicity in the Bolshevik's rise to power, including in the 1919 Munich Soviet Republic that may have put Hitler over the edge. But this calls for learning also why Jews had been pushed in this direction by their rejection by Christian society. It calls for acknowledging that the Catholic Church used to try cats and pigs for Satanism and burn them at the stake, in addition to the 100,000 women so dispatched – but also that it enabled the scientific revolution.

One side of these issues is verboten under the current regime. True education does not mean teaching the side now forbidden, but teaching the whole truth, including this side.

One issue in which Jew-haters reveal their prejudiced ignorance is in their treatment of Jews as a tribe with an evolutionary agenda. It is probably true with respect to very narrow, specific segments, e.g. the Syrian-Jewish community from Aleppo, or the Hasidim. But Jews as a people, particularly the Ashkenazi ones, have ceased being a tribe more than 100 years ago. In fact, there are major schisms among Jews even about such supposed issues of tribal evolutionary strategy as Zionism, the Jewish religion, homosexuality (strictly forbidden in Judaism), support for the Democratic Party and more.

The truth shall make you free; now, which Jew said that?

This business of superior–inferior is for idiots; always has been. Superior in what way, for what purpose? Truth calls for teaching about racial differences, some of which confer advantages on nonwhites, as any witness to an Olympics or to an English spelling bee will tell you.

Those who decry Jews who decry white supremacism have not ventured far from their corner pub. If Mr. Wheeler could step into the skin of a Chinese or Japanese, and look at white men through those eyes, he would find plenty to squirm about. At the time Queen Isabella was boasting of having taken only two baths in her lifetime, and the royal houses of Europe were swarming with fleas, the Japanese had been bathing daily in hot water for a thousand years. The features of the Chinese culture that propel China to run circles around the West despite of China's various handicaps have been part of that culture for 2500 years now.

So let's all slow down on this supremacy stuff, and go to work – something we have much to learn about from the Orientals. As it were, whites have many reasons to feel good about their culture and its achievements, but the way to build on those does not involve cock-a-doodle-doo.

Libertarianism will get a treatment in one of the next chapters, and not a very positive one. Anybody who would confuse Austrian economics with Libertarianism I'd not make my Minister of Finance. BTW, the most influential member of the nefarious Jew conspiracy Mr. Wheeler calls "libertarianism" was not a Jew, though related to one. It was Friedrich von Hayek, a gentile relative of the ¾ Jewish philosopher Ludwig Wittgenstein.

To connect the unfortunate term "racialism" to the Bible, people who claim to be Christians, and who have a brain, ought to have an operative knowledge of basic statistical terms such as Gaussian Distribution, mean, and standard deviation.

Which means that whatever statements one makes about any group of people, however true, are true so only in the statistical sense. There should always be room for those removed by more than one sigma from the mean. Or, as Abraham said in Sodom to the entity channeled in our times by Mr. W. Lindsay Wheeler: "Will you indeed sweep away the righteous with the wicked? Suppose there are fifty righteous within the city; will you then sweep away the place and not forgive it for the fifty righteous who are in it?" [Gen. 18:23-25].

Lastly, Brussels Journal's editors may be compelled to install race idiot filters one day, because a stream of compulsive subpar postings in a righteous tone and with lots of soi-disant sensational revelations generate much wheel spinning. On the other hand, people who are "extreme right wing" – as this community is labeled by some Body Snatchers – will always have to deal with those who are even more "right wing." The latter are, of course, so "right" that they are actually way on the left, as were Hitler and Mussolini.

Maybe some of the fruitbars are salvageable, and for that purpose maybe at least an attempt at argument is justified. Ultimately, however, one has to be aware that unalloyed racial hatred is a disease, and one that requires quarantine. It's the evil twin of Body Snatching, after all, though manifested as counter-matter in a parallel universe.


See also:
From Meccania to Atlantis - Part 1: The March of the Body Snatchers, 28 October 2008
From Meccania to Atlantis - Part 2: From the Clenched Fist to the Raised Middle Finger, 1 November 2008
From Meccania to Atlantis - Part 3: From Encirclement to Breakout, 27 November 2008
From Meccania to Atlantis - Part 4: Tribe, 12 December 2008