Information and Disinformation about Belgium
From the desk of Luc Van Braekel on Tue, 2007-11-06 14:27
Today Belgium has been without a government for a record 149 days. On Monday Euronews broadcasted this report (in English) on the Belgian crisis:




Here is the same broadcast in French:




At first sight the report seems fairly balanced. We hear two veteran politicians, one Walloon, Gérard Deprez (a liberal member of the European Parliament), and one Fleming, Mark Eyskens (a former Belgian Prime Minister).

A no-nonsense report without silly allegations about the Flemish Christian-Democrat leader Yves Leterme singing the Marseillaise and with a map of Belgium which correctly indicates not only the Walloon linguistic enclaves of Comines-Komen but also the Flemish one of Voeren-Fourons – something the Belgian meteorological institute fails to do on its own maps.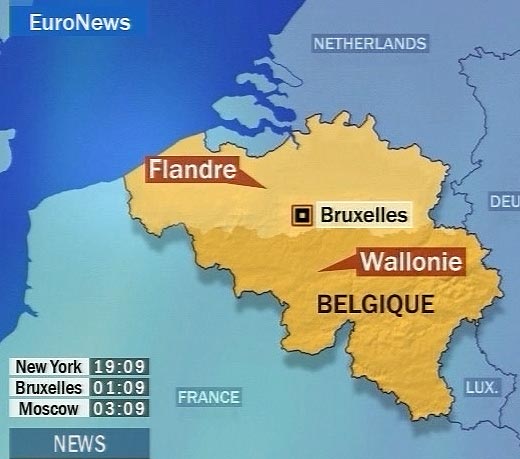 The English version of the Euronews broadcast, however, repeats the often made mistake that Flemings speak another language than Dutch. It mentions "Flemish-speaking" twice, "Dutch-speaking" twice, "French-speaking" three times and "Francophone" once. I can already see an average non-Belgian schoolboy attempting to answer questions based on this broadcast: How many linguistic groups are there in Belgium? The answer: Flemish-speakers, Dutch-speakers, French-speakers and Francophones!

If one listens carefully to what Mr Deprez and Mr Eyskens say, one can only conclude that they are engaged in wishful thinking, that they are saying how things should be in ideal circumstances. They shun away from the real obstacles to the formation of a government and they pontificate about an economic revival and a grand future, perhaps with some minor problems between the communities, parochial problems concerning rural backwaters, some annoying petty villages, like Asterix's, which should not be taken seriously. Deprez and Eyskens carefully avoid referring to the real problems that are preventing the formation of a Belgian government.

But let us return to the matter of maps. Euronews shows a detailed map of Brussels and its surrounding area. But the map is full of mistakes.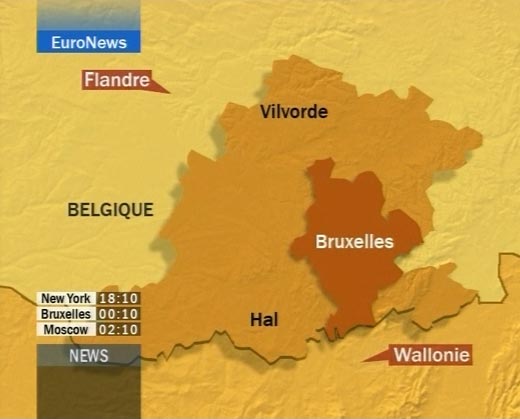 First of all, the six Flemish municipalities with linguistic rights for Francophones have simply been added on to bilingual Brussels. As a result the map indicates that Brussels borders on Wallonia, which is not true. Also, the map does not specify that the Halle-Vilvoorde region is part of Flanders, i.e. Dutch-speaking. The indication "Flandre" refers to the light yellow area, while it should encompass the dark yellow part marked "Vilvorde" and "Hal" as well. Eight different satellites have broadcast this wrong picture across the whole of Europe, the Middle East, North Africa and Central Asia. From the Canary Islands to Pakistan, and from Iceland to Kazakhstan.

And listen to what the broadcast says about the Flemish demand for separating the Flemish region of Halle-Vilvoorde from the electoral district of the bilingual region of Brussels:


It's also a bid to avert a threat by Dutch-speaking parties. They've said unless there's more decentralisation, they'll vote on Wednesday to begin the breakup of the electoral district that includes Brussels. Such a move would effectively deprive French-speaking Brussels suburbanites of the right to vote for French-speaking parties.

In French it sounds like this:


Ainsi la menace des partis flamands de voter mercredi la scission de l'arrondissement de Bruxelles-Hal-Vilvorde. Cela priverait 120.000 francophones du droit de voter pour des listes francophones aux élections législatives.

If we translate this, we get:


The Flemish parties threaten to split the electoral constituency of Brussels-Halle-Vilvoorde. This will rob 120,000 French-speakers of the right to vote for Francophone parties in parliamentary elections.

The latter is not true. Even after the split of BHV the French-speaking inhabitants of Flemish Brabant will be able to vote for French-speaking candidates, but only for French-speaking lists presented in their own constituency, and not for French-speaking politicians who are candidates in Brussels (these include some of Belgium's Francophone political leaders).

But let us not be too harsh for the foreign media, whose correspondents read only Francophone newspapers and who may not yet have seen "Flanders Today", the new English-language newsletter of the Flemish government.

Let us watch what the Flemish media bring about the Belgian crisis. Last Sunday I watched Royalty, a program on the Flemish commercial television VTM. It had an item about pro-Belgian activists. The journalist Kathy Pauwels said that many people are flying Belgian flags these days. "Especially in Brussels and Wallonia," she added. Marc Reynebeau, an outspokenly pro-Belgian historian, was allowed to comment that by doing this "the people" want to show that they are worried about the political crisis and hope that the country will remain united. VTM did not say that, though Brussels is full of Belgian flags, there are hardly any Belgian flags to be seen in Flanders. To learn this one had to watch the program Mise Au Point, three weeks ago on the French-speaking public television RTBF, where David Rennie, the Brussels correspondent of The Economist said:
Yesterday I was shocked when I drove to Flanders. I live in Brussels, like many [foreign] journalists. And it is true that we do not know Flanders well. We do not speak Dutch, that is certainly a valid point of criticism. But I was shocked. Like all journalists I had written articles about the appearance of Belgian flags in Brussels. In Flanders there was not a single Belgian flag. Not one. What is more, there was not a single Flemish flag either. That is something. It means that it isn't civil war yet. [At this moment we see Luc Vandenbrande, a Flemish Christian-Democrat, whom the Walloons consider to be one of the Flemish-secessionist agitators, smile while Viscount Davignon says something to Gérard Deprez]. But we get the impression that the Flemings perceive this crisis differently. This is really telling.

Meanwhile the Belgian papers write that an internet petition in favour of Belgian unity has already been signed by 125,000 people. None of the papers mentions that 80 to 90% of those who signed up are Francophones, as Filip Van Laenen discovered when he examined the language in which those who sign up indicate their nationality. There are so many signatures of French-speaking Belgians that Filip had to draw a second graph in order to be able to indicate the distribution of non-French signatures.
On the current crisis in Belgium, see also:
McKinsey CEO Calls for End of Belgium, Resigns, 13 December 2005

King Warns for Dissolution of Belgium, 1 February 2006
Flanders and France Vote for the Right. But Flanders Will Not Get What It Is Entitled To, 11 June 2007
The Influence of the Immigrant Vote on Belgian Politics, 26 June 2007
EU: The Model is Collapsing. Brussels Calls upon King for Help, 18 August 2007
After Belgium: Will Flanders and the Netherlands Reunite? 23 August 2007
King Summons Unelected Councillors to Solve Crisis. Will France Annex Wallonia? 28 August 2007

Royal Scout Keeps a Low Profile, Brussels Recalls Ambassador in Paris, 31 August 2007
Could Sarkozy Solve Belgium's Crisis? 3 September 2007

Even Flemish Muslims Want to Separate from the Walloons, 6 September 2007
If Flanders Secedes Wallonia Disintegrates, 9 September 2007
After Belgium: Europe's New Map, 13 September 2007
Thrembling Thrones in Brussels, 18 September 2007
Save Belgium: Postmodernists to the Rescue, 28 September 2007

Yves Leterme Is Too Soft. Will Flanders Join EFTA? 1 October 2007
Barroso and Bilderberg to the Rescue of Belgium, 7 October 2007

Background articles explaining Belgium:
A City Without Water Is A City Without A Soul, 28 June 2005
How Flanders Helped Shape Freedom in America, 11 July 2005
The Dark Roots of the EU, 5 December 2005

Nations Under Construction: Defining Artificial States, 13 June 2006

Why Is the Vlaams Belang So Popular? 13 February 2007

Belgium, the EU's Destiny. The End of Nothingness, 25 August 2007
Why Belgium Is an Artificial State. And the United Kingdom, Switzerland (and Even Austria-Hungary) Are Not, 27 August