From Meccania to Atlantis - Part 5½: Music We Can Believe In
From the desk of Takuan Seiyo on Fri, 2008-12-26 21:32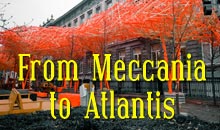 In the 2008 presidential elections, 69.5 million Americans voted for Barack Obama campaign's slogan, "Change we can believe in." Others also believed that Mr. Obama would bring change, but since it would not be change they could believe in, they could not vote for the agent of that change.
The European Union too has promised, and already wrought, much change. The European Anthem is one of the main symbols of the change the EUrocracy and its enthusiasts can believe in.
"This is the anthem," one reads, "not only of the European Union but also of Europe in a wider sense. The melody comes from the Ninth Symphony composed in 1823 by Ludwig Van Beethoven. For the final movement of this symphony, Beethoven set to music the "Ode to Joy" written in 1785 by Friedrich von Schiller. This poem expresses Schiller's idealistic vision of the human race becoming brothers - a vision Beethoven shared."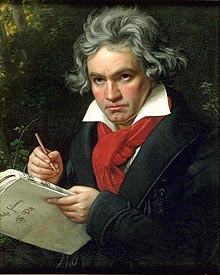 There are three problems with Beethoven's alleged imprimatur on the EU's scheme:
First, it is doubtful that either Schiller's or Beethoven's vision of "the human race becoming brothers" included parts of Holland, France, England or Sweden becoming "no go areas" for Europeans. Yet it's in Beethoven's name that the EU insists on flooding Europe with people who cannot – for it's anathema to Islam – become brothers to non-Muslims. Furthermore, when the EU was founded, Europeans were not told that the Holy Grail of "Unity in Diversity" included the Muslim Ummah and Africa, and excluded only those yahoo Americans with their noisy invasions of Normandy and pushy Marshall Plans.
There is further doubt whether Beethoven, fortifying himself daily for breakfast with those half-crescent pastries that Vienna had gotten inured to a century earlier in gratitude for – and to remember forever – its salvation from Muslims in 1683, could have planted a "kiss to the entire world" (in Schiller's words, Diesen Kuss der ganzen Welt) also on the lips of the Ummah. After all, Europe had experienced the latter's kisses for 1000 years, repeatedly, until it crushed jihad – temporarily, as we now know – just a few decades before Beethoven's birth.
Second, even if Beethoven really meant to celebrate the universal brotherhood of all mankind, his musical genius hardly seeped into other areas of his life, including politics. Among others, Ludwig had applied the eraser to his dedication of Eroica to Napoleon with such violent embarrassment that he made a hole in the paper of his score. Alas, Amy Biehl, who also meant to celebrate man's universal brotherhood, did not get a chance to rewrite her dedication.
Lastly, even sublime music can be used to embellish evil. Wilhelm Furtwängler, whom some cognoscenti consider the greatest conductor of all, conducted a performance of Beethoven's 9th with the Berlin Philharmonic on 19 April 1942 to celebrate Adolf Hitler's birthday. There was a time when Herbert von Karajan, whose visceral link to Beethoven we shall invoke below, used to open his concerts with the Horst Wessel-Lied, the hymn of the Nazi Party.
It is perhaps not coincidental that the same von Karajan was the arranger of the European Anthem: an instrumental version of the Ode to Joy, commissioned from him by the architects of Eurabia in 1971. To live, musicians must make music and eat, and often have to pipe for him who pays the piper.
Let us not forget the source. Beethoven's last symphony, the 9th, marks one of the pinnacles of artistic and intellectual, perhaps even spiritual, achievement ever attained by man. That is was composed by a totally deaf man is a miracle at which, one with a brain and a soul, ought to be overcome with gratitude and humility. Even joy. It's just EU's choice of the Ode to Joy theme as its anthem that's not joy-inspiring.
It's a choice amounting to papering over with Beethoven's sheet music open sores on Europe's body, inflicted by the very people instructing Europe to sing for joy. Moreover, the Eurocrats' choice of a rendition by the European Union Youth Wind Orchestra is troubling. One who intends to honor Beethoven by playing him ought to know, ought to feel, that any part of the 9th is no ground to be trod by youth. One who intends just to exploit Beethoven for propaganda purposes would not feel that, or bother to know it.
Indeed, the EU has now befouled Beethoven's 9th even to the extent of slapping it onto children's brainwash propaganda. But the EU cannot be faulted alone. Tens, perhaps hundreds of millions of Europeans, have been conditioned by now to believe in the Eurabian vision of "freedom, peace and solidarity for which Europe stands" [ibid.]. Perhaps the unofficial variant of the EU anthem, one with Latin lyrics by the Austrian composer Peter Roland, is a good portent of this latest Extraordinary Popular Delusion & the Madness of Crowds.
The latter is the title of a book by Charles Mackay. Mackay endeavored to show why otherwise intelligent individuals behave like blithering idiots as a collective. That he published his book in 1841, and adduced therein multiple examples of irrational social contagions, from medieval witch–hunts to the Dutch tulip "investment" mania, only shows how inadequate the teaching of history has been in the West.
For the West is now not only piloted by its ruling elite on a socio-political collision course with the ground, but is also reeling from a not-unrelated and still-developing burst-credit (burst tulip?) bubble that will soon be known as the 2nd Great World Depression.
Indeed, our mass idiocy in economics is surpassed by our mass idiocy in social governing -- what one might call True-Believer Progressivism and I chose to call Podism (1). And so, Mr. Roland's Latin-lyrics version of Europe's anthem reads as follows (with English translation in the right column):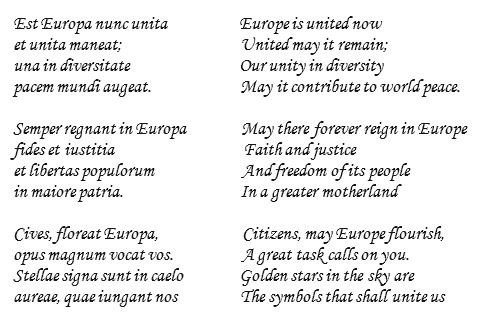 This is, to put it charitably, not even the bull who hijacked Europa but the dreck of that bull. "Our unity in diversity" stands for Malmö going up in flames, and soon Paris, Rotterdam and Birmingham. "Contribute to world peace" is a euphemism for impotence in Srebrenica and limpness in Saint-Denis, for prostration before blood-crazed jihad, before nuclear Iran, before European "youth" bearing gifts of Molotov cocktails, before hard-pressing Turkey and assertive China and Russia. It also stands, as Fjordman has noted, for trading in the prospects of international wars for the certainty of future domestic wars.
The faith that the European Union has set up to "forever reign in Europe" is the Islamic faith, and the justice, sharia justice. With the founding stone of the Grand Mosque in Tours already lain and Charles Martel casting a curse from the beyond on his heirs, "the golden stars in the sky" will be harvested by the sickle of the half crescent – unless Europe wakes up from its "universal brotherhood of men" fata morgana.
All this hardly merits joyous paeans, let alone in Latin. Esperanto perhaps -- George Soros's favorite language. Besides, I have heard the Ode to Joy theme from coughing stadium loudspeakers at a provincial football championship in Korea, from a telephone answering machine in Peru, and –- in a country that shall remained unnamed -- from one of those Oriental electronic devices used in discriminating Asian bathrooms to mask the sounds of what comes naturally. The Ode to Joy is cheap currency now.
Seeing how the West is saturated with Body Snatchers and "Progressive" retards, militant gays and children-averse feminists, Euro-Moroccan jihadists and American-Aztec reconquistadores, minority majority recidivist rapists and majority minority gangbangers, government commissars and career tax eaters, parliamentarians whose paychecks go up while the paychecks of their electorates disappear, banking princes who reap 8-figures bonuses while ruining the world and still getting a bailout from the rulers of the world, it's clear that the singing for joy has been not so much premature as fraudulent.
One who wants to feel Europe's current situation and be prepared for the future, cannot afford to listen to the Ode to Joy played by youth orchestras. What's coming is no kids' play. It's possible that one day all men will be brothers, even with the Ummah, but it will take them another 600 years – roughly the time gap between the birth of Jesus and the birth of Muhammad. Meanwhile, we need musical inspiration for the next 60 years, not the next 600.
To feel where the next 60 years are headed, one has to go to the first movement of Beethoven's 9th Symphony, not the last. Allegro ma non troppo, un poco maestoso. How nice that one who manages to give the finger to Snatcher education and Pod "entertainment," picks up some Italian while acquiring the gift of music.
This is not music we can believe in. This is (first 15 minutes). Moreover, it's being conducted as though Beethoven himself had come from the beyond and entered another body.
Ludwig did need to redeem his own piloting of the 9th at the 7 May 1824 premiere, when he could no longer hear anything. Luckily, von Karajan could hear everything.
The Allegro has its lyrical passages, connoting hope for an idyllic future. But to get there one has to walk through heroic struggle, loss and suffering. And no musicians can play like von Karajan's do here, except if they be grown ups who have struggled and suffered themselves, as all men must, even in the land of rubato.
Rubato (from the Italian rubare, to rob) is a musical term that means "robbed time." Time robbed from one tempo, for the sake of what a conductor might call "expressive retardation" or "expressive acceleration," must be made up elsewhere in the performance of that piece of music.
Body Snatcher Utopia, bringing down heaven in the lands of whitey, has been all rubato. Our robbing ruling elite has been robbing the future in order to accelerate the present. A hundred million Third Worlders whose import will allegedly pay off the retirement costs of the boomer generation. As if sub-literate, sub-90 IQ "youth" from white-despising cultures could or would bail out in the next 20 years a generation of spoiled white geezers. Or that they would so save the West from itself in the next 200 years.
A mosque on every square, an imam on every city council – we take pride in our tolerance. A Blue-ray on every shelf and Olay on every face – all charged to your Visa card, no payment for 90 days. No-money-down mortgage on a house you can't afford, should not have bought, and will never repay. Tropical vacations instead of birthing future generations. Multi-trillion bailouts of crooks and nincompoops, as though money fell from the sky. Global Warming taxes in the coldest year on record.
It's all rubato. And the long, cold slowdown is coming, the pain and the settlement of accounts for having robbed the future for so long.
There are cosmic forces at play too: a giant swell of toxic yin that has risen and carried the West's ruling elites to bring the pendulum back into balance from Hitler's monstrous yang evil, American slavery, and other Western sins (2). All these, upon examination, could have been discovered as universal sins in all societies – for if there be a brotherhood of men in goodness, there certainly is one in evil. But instead, the Body Snatcher elites, carried blind as the bats by the same cosmic forces that bats obey, have pushed the pendulum to the farthest reaches of the opposite yin pole, thereby implementing the gradual destruction of humanity's greatest civilization while singing an ode to joy.
That's why the task before people who are unwilling to go down with Body Snatcher rubato paradise, who love and want to protect their families, their European autochthon peoples and their culture, will be difficult. It is, as well, why another Beethoven masterpiece is apposite: his Egmont Overture.
I know less about the Count of Egmont than, I imagine, any 11-year-old Flemish child does. But it's what Egmont symbolizes that counts.
For 440 years now, Lamoral Egmont has been a symbol of the highest virtue and noble courage in the face of cruel oppression by an alien power. His people, prudent and prosperous Flemish burghers, could not bring themselves to risk all and rise in his defense, when Egmont was still alive and it still mattered. And so, when the Spanish oppressor, the Duke of Alba, arrested and executed Egmont in a public decapitation in Brussels on 5 June 1568, only shame and repressed anger lay thick in the air. But the injustice and cruelty of this murder lay heavy on the Dutch people. They would soon rise up, defeat the much-stronger Spanish military, and gain their independence. You can hear all that in the Egmont Overture.
Beethoven wrote Egmont as accompaniment to a performance of an eponymous tragedy by Johann Wolfgang von Goethe. Goethe had written and Beethoven composed Egmont as a political manifesto for justice and liberty and against despotic oppression.
I find this performance most touching: a young, fiery Romanian, Sergiu Celibidache, standing somewhere in the ruined Berlin of 1947 and leading an orchestra of German musicians, most, probably, non-Nazis who have just gone through a decade of hell on earth. Through the medium of three great Europeans: two Germans and a Fleming (3), they are conjuring a better future, little knowing that prosperity would come, but with it an Invasion of the Body Snatchers, with their Turkish and Moroccan proxies, screaming Green bendits in the halls of power, prancing transvestites and income tax investigating inspectors, all squashing Germany's soul and future once again.
It's worth adding that Celibidache was famous for his rubato. Indeed, I find his Egmont slow parts too slow, and his fast parts too fast. But Lamoral Egmont is smiling every time this performance is played, and that's more important.
Celibidache was a +4 sigma genius with four doctorates, a deeply spiritual man and a musical legend. I can forgive such a man for his rubato. But not the +2 sigma fools who are robbing the future of their peoples.
Those who lose their parliamentary immunity and voting rights while life goes on for the rest of us; those who are hauled before Body Snatcher Justice with "racist" and "hate-speech" dunce-caps on their heads and confiscatory fines on their hard-won savings; those who lose their jobs for speaking out while others don't walk out in solidarity: those who can't get their books published while others continue buying books; those who live in hiding in fear of jihadi murderers, for our sake and we don't care enough; those whose houses are set on fire because they published a cartoon; those who are butchered on the street of their forefathers' town by the Snatcher's Muslim proxy; those who step out to demonstrate and are beaten up by antifascist fascists while the rest of us watch on TV – for all those, Beethoven's Egmont tells their story, and promises a future vindication.
-----------------------
(1) The basic analogy reverts to Part 1, where we cited the film Invasion of the Body Snatchers. In the film, alien "Body Snatchers" produce giant legume Pods that replace living people while appearing to be identical to them. From the Pods develop the new Body Snatchers who cultivate further Pods etc. I use these terms interchangeably, usually preferring Pods as a catchall term, and Antipod as the antithesis of Pod.
(2) Some point out to Sweden and Norway as countries that suffer from the most pernicious form of yin toxemia, yet don't have – particularly for Sweden – the crushing burden of Hitler to compensate for. If one goes just a little farther back in history, say 300 years for the Swedes and 1200 years for the Norwegians, there are geysers of violent yang there. The pendulum that has swung so far to one side, always swings back too far to the other side, even if it takes 1000 years.
(3) A Fleming would probably say, one German and two Flemings. Ludwig van Beethoven was proud of that van; he was but two generations removed from Flanders.
See also:
From Meccania to Atlantis - Part 1: The March of the Body Snatchers, 28 October 2008. From Meccania to Atlantis - Part 2: From the Clenched Fist to the Raised Middle Finger, 1 November 2008. From Meccania to Atlantis - Part 3: From Encirclement to Breakout, 27 November 2008. From Meccania to Atlantis - Part 4: Tribe, 12 December 2008. From Meccania to Atlantis - Part 4½: Darkness in the Cranium, 14 December 2008. From Meccania to Atlantis - Part 5: From Screeching Cats to SDG, 19 December 2008.